Instant Referrals
A review by Andrew Forward, of Bradley Sugars's book on building a successful referrals based business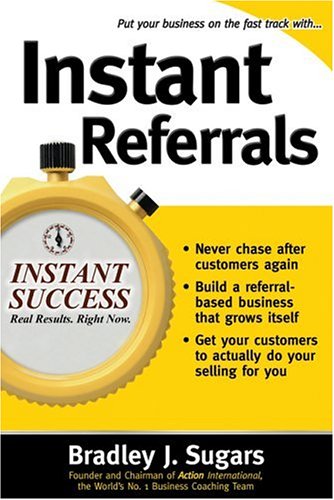 Fundamental function of business
To ensure a constant supply of new leads to attempt to do business with. The best and most exicting way to get leads is using referrals.
This book will teach you how to build a business that will build itself. Deliver the WOW factor and turn existing customers into Raving Fans that will convince friends and family to become Raving Fans as well.
Read then do! Think and plan; test and measure; and write and implement strategies to help build your referral business.
What is a referral-based business?
All business require marketing, but the referral-based business approach is different, leads will be more qualified (i.e. most likely to want your product / service). A referral-based business is a way to introduce new customers for low acquisition cost by getting existing customers to promote your business for you.
Acquisition cost
A $1000 in advertising generates 100 phones calls, you are paying $10 for each lead. If you sell to one in five, you are paying $50 for each sale. If your profit per sale is $75 then you can repeat that process over and over.
Buying a customer
Switch your thinking from selling to a customer to buying a customer. Think that customers cost money to attract and you will see a new and unlimited world of sales and marketing results. The goal is to try and buy customers for less than you will profit from them over their lifetime of buying. What if the cost of buying a customer is covered on the 1st sale?
A promotion is when you have a product or service and once it is sold, that's it no follow up sales - this is not a business. A business is when you buy customers and then sell them something over, and over, and over.
Successful Referral Strategy
Service must be extra-ordinary
Customers expect to be satisfied. Give your customers something to talk about, the first step in creating a raving fan. Good customer service is proactive; you should always think about what you can do to get your customers talking about you.
Raving fans cannot stop selling for you
You must give people a reason to promote for you. What is in it for them?
Referral business have low hard-dollar costs, but are very time consuming. It is best suited for high-priced products / services (known from now on as just plain services).
You must understand your action costs: # leads/month, conversion rate, average # of customer transactions and margins.
Leads. Total number of potential customers you contacted, or contacted you last year.
Conversion rate. The % of people who bought versus could have bought from you. If 10 people visit your store today, and 3 people buy: 30% conversion.
Number of customers. The number of different customers you deal with. It is not about getting more customers (you cannot change that), it is about getting more leads and improving your conversion rate.
Number of transactions. What is the average number of times a customer buys from you in a year.
Average dollar sale. Total sales divided by number of sales.
Revenue. Total # customers times average # transactions times average sale = turnover.
Margin. The % of each sale that represents profit. It must consider all costs, not just the wholesale value of the services
Profit. You cannot get more profit, you can only get greater margins on the turnover you have got.
Get clear on your target market
The last thing that you want are referrals that do not translate into sales, or who only want to do business once (or create a bigger headache than the sale). If you do not set the rules for your customer base, then your customers will set it for you - which is rarely good.
Decide on age, gender, income and where they live. And, do not say all ages, both genders, any income and any community - narrow your focus please.
Ideal Customers
A - awesome. B - basic. C - cannot deal with. D - dead.
The A customers spend more money and are much less hassle to deal with. The B customers are good, solid people that are price conscious but not a nuisance. The C customers demand much of your time, haggle on price, take forever to make up their mind. The D customers pay late, have frequent returns, take all of your time usually throw a hissy in your store if they do not get what they want (not necessarily what you are offering).
What are you offering?
How should customers do business with you?
What do you expect from your customers?
What can your customers expect from you?
The traditional customer does not come first - she comes fourth.
There are four categories of customers, order of importance:
Owner
Team
Suppliers
Customers
Your Business should serve you first with profit and enjoyment, otherwise why did you bother to take the risk? Without a great team to support your business, you have no business. Suppliers are next. Your reputation depends on theirs (selling bad products look bad on the seller as well as the maker). You are not going to put up with 3rd rate customers, so why should your suppliers (i.e. do not be the D customer to your suppliers).
Owners take care of the team, the team will take care of the customer. The customer will take care of the business and the busines will take care of you.
Every time you educate your customers about how to do business with you you create an advocate for life. Just be sure to always give the level of service promised that is first-rate.
Raving Fans
Ravings fans do not just happen, it takes hard work. The aim is to move people up from customer to raving fan.
Action Strategy 1
Who is your ideal customer, who do you want referred to your business.
Referrals are not referrals if they result in no sale, 1 sale. Even worse is when referrals result in a PITA (pain in the ass) sale - which usually costs a lot more than the profit on that sale.
Action Strategy 2
List your current clients as A, B, C, D
Do not put up with customers that do not pay bills, do not treat you well, and haggle needlessly on price. Write to D-grade clients and ask them to deal with someone else.

Dear D-Grade Customer,
I just wanted to inform you that we are making the following changes to our business.
We have decided to focus on our valued customers and we will implement:
 1. blah
 2. blah blah
We know that you will not have trouble finding another company to help you with future issues,
Thanks,
andrew f

Write a similar letter to C-Grade customers stating that if the change is inconvenient to them the we can suggest an alternative company. Write your B-Grade people to refer like minded people and ask the me, the owner, by name. Be sure that you outline to your customers that you are making these changes to promote the best service possible.
Action Strategy 3
How much does each customer cost you?
You really just "bought" that new customer. You have marketing costs to attract new customers. You need to understand that it takes time to recover your investment in customers (as your customer spends money buying your services).
For example, a $500 ad brings in 10 new customers. Your cost is $50 / customer. You can reduce this cost by providing a more targeted ad, or selling more to each prospect.
You don't just want to make your business profitable, you want to make every customer profitable.
Cost per Customer
| | | | |
| --- | --- | --- | --- |
| (1) | # new Customers per month: | | |
| (2) | Sales Cost: | | |
| (3) | Promotion Cost: | | |
| (4) | Marketing Cost: | | |
| (5) | Total Marketing Cost: | | (2) + (3) + (4) |
| (6) | Rent: | | |
| (7) | Utilities: | | |
| (8) | Salaries: | | |
| (9) | Transportation: | | |
| (10) | Production: | | |
| (11) | Sundry: | | |
| (12) | Overhead: | | (6) + (7) + (8) + (9) + (10) + (11) |
| (13) | Cost Per Customer: | | [(5) + (12)] / (1) |
Customers usually need to return 2 or 3 times before they are profitable to your business
Action Strategy 4
How much are you willing to invest to buy new customers?
Start by looking at how much each customer (on average) spends with you over their lifetime.
How long do you keep your customers
What is the average $sale per customer
Work out the profit on your first sale (acquition cost minus average profit)
Once you know how much your customers cost to acquire, you know how much they are worth (i.e. I would need to spend another $X dollars to acquire a new customer to replace this existing one.
Is it possible to make a profit on your first sale? Do you make a profit on the future sales?
Action Strategy 5
Keep in touch with your customers every 3 months
The average business spends 5X as much money to get new customers then to keep old ones coming back. What a waste.
Mail out a quarterly newsletter, include specials available only in newsletter
Send cards for easter, birthday and Christmas
Customers cannot refer you unless they remember you. You need to communicate regularly. To maximize chances of getting a referral you must, must, must provide exceptional service.
After 3 purchases, customers are 10X more likely to refer you.
Action Strategy 6
Teach your customer why it is a good for them to give you referrals.
"What's in it for me?" - Cliche aside, very important that customer knows how they will benefit by referring people.
Save marketing dollars - Savings, rewards, service
Keeps strong / healthy business so I'll be around again when you need me.
Helps to attract top customers like you
You must always give the level of service promised. Tell customers you only want referrals like them
Pays the customer a compliment
Sets standard to whom they should refer
These first six strategies are non-negotiable, daily routines.
Action Strategy 7
Awesome service creates "delighted advocates" instead of satisfied customers
Friends tell friends about if they get really bad service or outstanding service - never about normal good service. There are a lot of business out there and it is difficult to leave a lasting impression.
Include sweets with packages
Give gift to customer for using your service
The more people you touch with awesome service, the bigger referrals sales you will get.
Action Strategy 8
Thank customer and ask them to tell friends about you
Easy way to make the customer feel special, to ask them to come back and refer friends is to say "thanks". How many thank-you cards do you get?
Action Strategy 9
Be daring, ask for referrals when people buy from you - or even if they don't
It will take time to find the right way to ask. Why not ask when your customers are high on their purchase. Choose your momemt, talk with conviction - you have the right to ask you are not begging. Give and take. Give great service, reciprocate with referral.
Give a reason why the customer should refer someone, otherwise it is a waste. Ask for a referral once you have a commitment for the sale, but before you finalize the details. Ask why they bought from you, and if they know people that would buy for the same reason. Give customer at least 2 valid reasons why they should give you a referral.
When someone does not respond to your request for a referral - it does not mean no, just no for now. So try again later.
When customers do not buy, they feel awkward and give lame excuses. The customer does not want to admit they cannot afford it, or that they want to shop around to find something better. Your salespeople can divert the customers attention by asking for a referral. This gives the customer the upper emotional ground to hand over something other than money or an order.
Take time planning how to ask for referrals, "if you were a customer would you pass your friends details to you right now."
Action Strategy 10
Let customer know you'll be asking for referrals later on
Let your customer think about it now and answer later.
Good morning - before we start, can I let you know how we work with our customers, is that okay?
We get 80% of our business from referrals, if you get value from working with us, we would appreciate if you refer two people just like you.
Not now, but at some stage in the future when you believe you have received great value, is that okay?
[if you are really daring]Actually, we have had a few too many referrals lately, we want to be sure that we can give the same great service - so we will hold off on your referrals for now, until business slows down a bit.
If you have a referral form, tell the customer you will be following up by calling them at home - that way your customer does not have to remember to bring it back but will most likely fill it out now (because you are going to follow up.
Getting referrals is all about your attitude - be honest, be genuine.
Consider putting your referral strategy right into your marketing material. "Customers who receive great value usually refer their friends".
Action Strategy 11
Make giving you a few referrals a condition of doing business with you
You make the rules, not setting them means that your customers will do it for you. Make it very clear upfront. Give a copy of your Commitment Statement where you set out what you will do for your customers (i.e. great service) and in return their commitment to you (i.e. giving you referrals).
Be sure that the process of giving referrals is extremely easy to complete.
Action Strategy 12
Reward your customers with a special price if they give you a certain number of qualified referrals.
Why not buy new customers from your existing customers by offering them a discount, gift cheque or store credit. "Would you prefer the regular price, or the discounted referral price?"
Before you offer money for referrals you must know your average conversion rate.
Discounts for referrals have a low hard cost. For example, $100 discount may only cost you $40-$50 in "real" money. Decide how much to spend to acquire ever new customer and then calculate the cost per referral you are willing to make. If you have a 10% conversion rate and are willing to spend $800 per new customer, then you can afford to spend $80 per referral.
Action Strategy 13
Offer your customers a gift, gift cheque, or free service for each referral.
Offer something for their trouble. What you offer should not jeopardize future sales. It must add value to the relationship, and lead to more business from them.
Gift cheques bring in future sales. Gifts should compliment what you sell and not something you actually sell. You do not want to limit your sales opportunity. If your customer would have paid for the gift, then you are losing a sale. Gifts should have a low hard cost, and high perceived cost. If you mow lawns, then clean up the yard for free. Your gift should free your customers from troubles (i.e. it is a hassle for them to do) and / or time ( i.e. having to it themselves).
Gifts also act as an excellent way to introduce other businesses to your customers.
Action Strategy 14
Let your customers give their family, friends, associates a gift from you.
Approach (a) customers give you a referral, you contact the referral and send them a gift, or (b) customers give you a referral, you give gift voucher to customer, you contact the referral, the customer hands out the gift voucher to the referral.
Be proactive when dealing with future clients, give gifts that allow members to sample what you provide. Each voucher can act as a great advertisement - much greater perceived cost than the hard cost (i.e. free service works well).
What can you afford to give away? Your conversion rate needs to be high enough to be profitable. You need to give away as much as you can handle - no use flooding the market and then you cannot fulfill the order. The biggest mistake is poor follow up with potential new customers.
What you give new prospects needs to be different than existing customers - you have to convert new customers versus selling to existing customers.
Give credit to the customer for the free gift (i.e. you are giving it on her behalf), she will want to refer more people to you.
Follow up on prospects - test and measure.
Action Strategy 15
You can afford to give simple gifts both ways (if they buy or if they don't) and double the effectiveness of your strategy
You need to know how much it costs to buy new customers, and your conversion rate and you must know how many new prospects you can deal with at any one time.
If a referral leads to a sale - give a gift. If a referral leads to a sale - give a gift. If referral leads to high quality sale - give a gift.
Action Strategy 16
Mail out referral card with all orders, drop one in each shopping bag
Never miss a chance to ask people for new referrals. Always give "cards" to customers.
Business card with tear off flap - "You've been given this card by someone who thinks you are special
Referral card with postage paid, send it with a note "Mail back and get a gift"
Do not just randomly give out your referrals cards, there is a more cost effective way.
Include in newsletter
Include card in another businesses newsletter
Include card with invoices
Sending out cards with products
Have cards in front counter, asking them to take some and give it out
Drop cards in bags at checkout
Action Strategy 17
Put a sign or sticker on all of your products and make people an offer
Think of all the places your product ends up and turn it into an advertisement. Always ask permission and potential offer a discount for the customer agreeing to *ad* for you.
This approach is great for rental businesses, but be sure that your product placements have clear contact info (it is a loss if a potential customer does not know how to contact you. Also make sure there is an incentive (Wii FM) - people do not just call because they see an ad.
Ideas include pens, calendars, datebooks, t-shirts, hats. Keep old copies of your newsletters in other reception areas and waiting rooms. Make sure that your exposure has an offer that the *viewer* cannot refuse.
Action Strategy 18
Present a seminar for your existing customers and have them bring their friends along
You can demo your latest innovations. By positioning yourself as an expert, you become the person they will want to buy from.
You can teach your customers how to buy, what to buy and why they should buy from you. Go for quality:
Good venue, great speaker, nice refreshments, great info
Invite five to ten times the # people you want to attend
Fill your room with people (a smaller full room is better than a big half-empty room)
Use name tags, use different colours to distinguish new from existing customers
Provide plenty of opportunity to ask questions
Be sure that your audience can buy from you that night - make them an offer that is only available to the attendees
Follow up immediately with the interested audience
Invite local newspaper, industry magazine to cover the event. Take photos and put in your newsletter. Be sure that it is 80 - 90% information and only 10 - 20% selling.
Aim to position yourself as an expert in the field, not the best salesperson
Action Strategy 19
Encourage customers to buy gift cards to introduce friends
Do all customers know that you sell gift vouchers? Are they using them? You can promote your gift-cards in newsletters, advertisements, signs, place a message within you customer account statements - get the word out.
To introduce gift cards into your company:
Give existing customers $5 gift-card with a letter saying that you just introduced the gift-cards and you wanted your customers to know about it, and encourage them to buy the gift-cards for friends and family
Personally endorse each gift-card so you will not end up with a lot of pre-printed amounts like $10, $20, etc. If they want $18.50, let them have an $18.50 gift-card.
For new propects that leave your store without buying, give $5 gift-card with letter in enveloppe that says "Do not open until you get home"
Give a $5 thank you for making a purchase
Give $5 voucher if they spend $25
Send four $5 gift-cards to existing customers with a note saying "A gift to you from _____" so that they can send this gift-card to a friend
Action Strategy 20
Introduce new market to your business with a bring-a-friend-sale
Closed-door sale. In your invitation letter create real excitement to the point where people would cancel their plans to attend.
Offer. Your sale should offer real incentives for people to attend, including loss-leaders (these items sell below cost)
Customer Service. Greet people warmly, help them, make an effort to truly sell them what they want.
Social occasion. Create a mini-party environment with a come with friends, eat snacks, and enjoy feeling.
A closed-door sale attracts high quality referrals. The price of entry to the sale is for existing customers to bring in potential new customers. And, those new customers may react like "I normally go to competitor X, but they never have anything like this."
Pick a day
Cover the windows of your store
Write letter to customers outlining the price of admittance (i.e. new customers)
Leave space on invite for friends name and address
Give a gift to everyone that attends
Maybe offer a better sale price if you bring in more friends (sliding discount sale)
Action Strategy 21
Throw a party to celebrate your customer's purchase and invite their friends along.
All customer has to do is give you a list of his friends to invite to the party. Be sure to send the invitation on company letterhead. Consider doing a cocktail party or bbq. You can sendout invitations on behalf of the customer. You want to host this party as close to the purchase as possible.
Real-Life Examples
Spend more time working on the business, not in it. Systemize every aspect including opening, doing a quote, check out. This will make your business process predictable and repeatable so you can always ensure the highest level of service.
Consider introducing
VIP program
Closed-door sales
Gourmet coffee to customers
Testing and Measuring
Why? You need to know where customers are coming from.
Which referrals are working?
How well are salespeople doing?
How much does each sale cost you?
By measuring, you will know your key leverage point: the thing you need to improve most. Perhaps you have high conversion but low referrals - so work on getting your referrals, because your conversion strategy is already working great, so it would be wasteful to try improve it.
What produces results, what does not - make a decision.
Ask people where they found out about you, "By the way, can I ask you where you heard about our business?"
Be vigilant, be disciplined. All the time, 1/2 the time does not count. Make a record after every customer interaction, and employees do the same.
The results will be that you will see what is not working - if it has low response then kill a certain strategy. Channel your money elsewhere, or improve the strategy.
Review past success campaigns
Read books on marketing
See what the competitors are doing
Kill bad strategies, examine, modify and repeat. Once you have collected your ideas about how to fix your failing strategies, sit on them. There is something more important: the strategies that are working. Find out why they are so good and try to do it on a larger scale - do not meddle, just do it larger and perform more tests.
Soon, you will have a collection of referral strategies that work, with tested results to back it up.
Daily Testing / Measuring Sheet
Repeat
New
Sales Conversion
Name
New Inquiry?
Same Inquiry?
How Hear About Us?
Which Strategy
Details Captured?
Sale Or Recruited?
Sale Value $$
Follow Up Or Call Back
Collect the information above, every day. Then each day, you can calculate the average dollar sale and the conversion rate.
Some businesses we know